New Design Cordless Led battery operated mushroom-shaped table lamp
The Daily-lighting's unique Led battery operated mushroom-shaped table lamp design allows 12 super bright(4000K and 6000K for option) or LED's to cascade a flood of light over Multiple Uses: outdoor dining, home accent, dorms, camping, RVs for decoration , reading or entertaining – turns on or off and dimming with the mere touch of the lamp top.Besides ,the USB port useable design can charging for phone or ipad as a power bank where you are . Also it can be an emergency lamp works like a lantern…hand carry or use hands-free .
Daily-lighting Touch control Wireless table Lamp
With its contemporary profile and steel polished, this battery operated mushroom-shaped table lamp not only looks stunning when placed on a dinner table,study desk or other work area, but it also effectively illuminates, whether completing homework assignments or paying the bills. The versatile, wireless lamp also works well for outdoor dining, accent lighting around the home, in a dorm room, or when camping. Use the lamp like a desk or table lamp, or put it to use as a portable lantern–it can be hand carried from the tent to the picnic table or placed on a flat surface for hands-free use–a great option during power outages or other emergencies.
Newest LED Floodlight Technology
With its small footprint and standing just 8 inches high(D1008*H202), the lamp's LED floodlight technology combines 12 energy saving LED lighting source–that never require replacing–with a special lens for ultra-bright, glare-free and exceptionally ultra-wide coverage.
Durable Design with Touch-Top On/Off
In addition to its modern look and portable convenience, the wireless lamp turns on or off and dimming with the simple touch of a fingertip–no more searching for a switch. Just touch the top of the lamp once to turn it on and again to turn it off and long touch for dimming. The attractive lamp runs up to 36 hours on 5000MA Li-ion rechargeable batteries , and it comes housed in tough iron material for long-lasting performance. The lamp's sleek style nicely complements any table or decor, whether creating a beautiful table setting or spicing up a side table in the living room. Choose from a variety of two colors, including satin nickle and bronze.
Better than Ordinary LED
LED floodlight technology is a blend of special LED and lens technologies that create enhanced and more useable light. Ordinary LEDs emit a highly concentrated beam of light and illuminate only a small area. They also provide very little ambient light–the area outside of the beam is dark. Ordinary LEDs also emit a "hot" light, which produces glare and can cause eye-strain.
LED floodlight technology, the next generation of lighting technology, offers a smarter choice. It delivers an ultra-wide beam of bright, glare-free light to illuminate your dinner table, desk, or work area.
So you can see more. It also provides even and balanced illumination over a wide area, so you can see better and more comfortably–no more eyestrain or discomfort.
In addition, the LEDs never need to be replaced, and they use only 10% of the energy compared to a conventional light bulb to extend battery life, which ultimately translates to fewer batteries in landfills and more money in your pocket.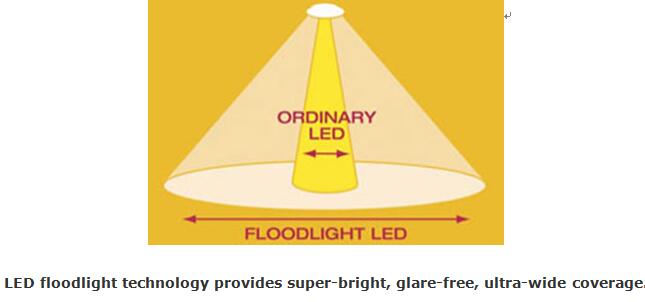 Led battery operated mushroom-shaped table lamp